My Personal Thought
Thanks for viewing my pictures, stories and thoughts. This page is about the sites I think that are worth visiting and that I personally think that are enjoyable. So I want you all to enjoy what I enjoy and have a chance to see what I spend my time in while online. Most of the sites are AE86 related the others maybe car related. So enjoy and thanks again.
-Emilio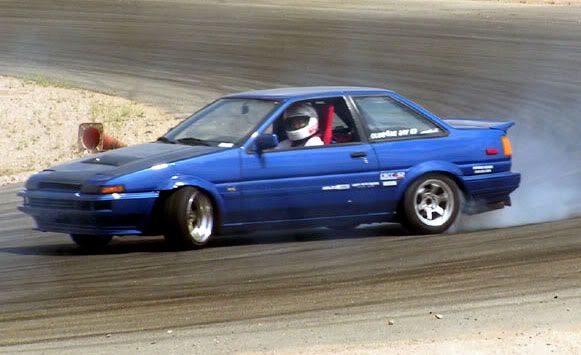 Taka Aono at Drive Fest California 7/25/05 Photo By DriftOverGrip
Favorite Links
Club4AG
AE86 based site great tech support, reference and forums they also organize DriftDays
Techno Toy Tuning
Great place to buy suspension parts for your AE86 or any other old school car.
Team Hinga
Great Team in Okinawa Japan, Great Drift pics and great JDM stuff for sale.
Team Hinga Forums
Team Hinga's hang out place go and chat with Team Hinga members

Stage One Imports
Great place to buy JDM AE86 parts.
Daily Drifter
The Organizer of Drift Sessions in Houston
JDM Items For Sale
These Items are from my brother in law that lives in Japan if you want to contact hims his email is Jaimea@konnect.com he'll be glad to help you.
Musashi-Garage
My brother in laws personal site where he sells most of his parts. He lives in Japan...... Lucky....
DriftStar
Kool Site of a Canadian AE86'er
Drift Clubs
Where my buddies hang out with and chat about events and drifting
IconDrifting
Where the San Antonio drifters communicate without intruders...
Al's WebSite
This is where Al post his pictures of his awesome Driving, Events and car...He also Hosted some of my pictures from Japan so very cool guy hit his website up...
Texas_Drift
The People up in the North that organize some of the most awesome events ever with good price and LOTS and I mean LOTS of Track Time...